wedding venue in la paz mexico
Are you planning the wedding of your dreams? Then La Paz in Mexico might just be the perfect location for you. Also known as Baja, California, the location is stunning and provides the perfect destination for a luxury wedding. A destination wedding is one of the best there is, as you immerse yourself in a tropical paradise in the most idyllic setting. 
La Paz is a hidden gem in Mexico in a small town near Cabo that boasts the most beautiful views of the diverse sea life, the calm waters, and the rocky desert landscape. It is the perfect location for a beach destination wedding as there are very low chances of rain, and the sunsets in the evening are spectacular. Celebrate your special day with a romantic ceremony on the beach and a fabulous garden party until sunrise.
We are a 20-room resort with a capacity for sleeping 44 people. We have a restaurant on-site that can cater for your event. We have a chapel with 360-degree views of the bay, a main palapa by the pool, and/or the beautiful white sandy beach for the wedding ceremony and reception.
We require a minimum stay of two nights and include:
* 4 event spaces
* Custom menu (priced per person)
* Accommodations for up to 44 on-site and 75 in the bay
* Ample Parking
* Coordination of services and activities throughout the stay
* Checkout clean and daily turndown service
* Use of kitchen and all common areas
We can help you plan the wedding you've been dreaming of by adding a rehearsal dinner, reception, guest activities, and much more.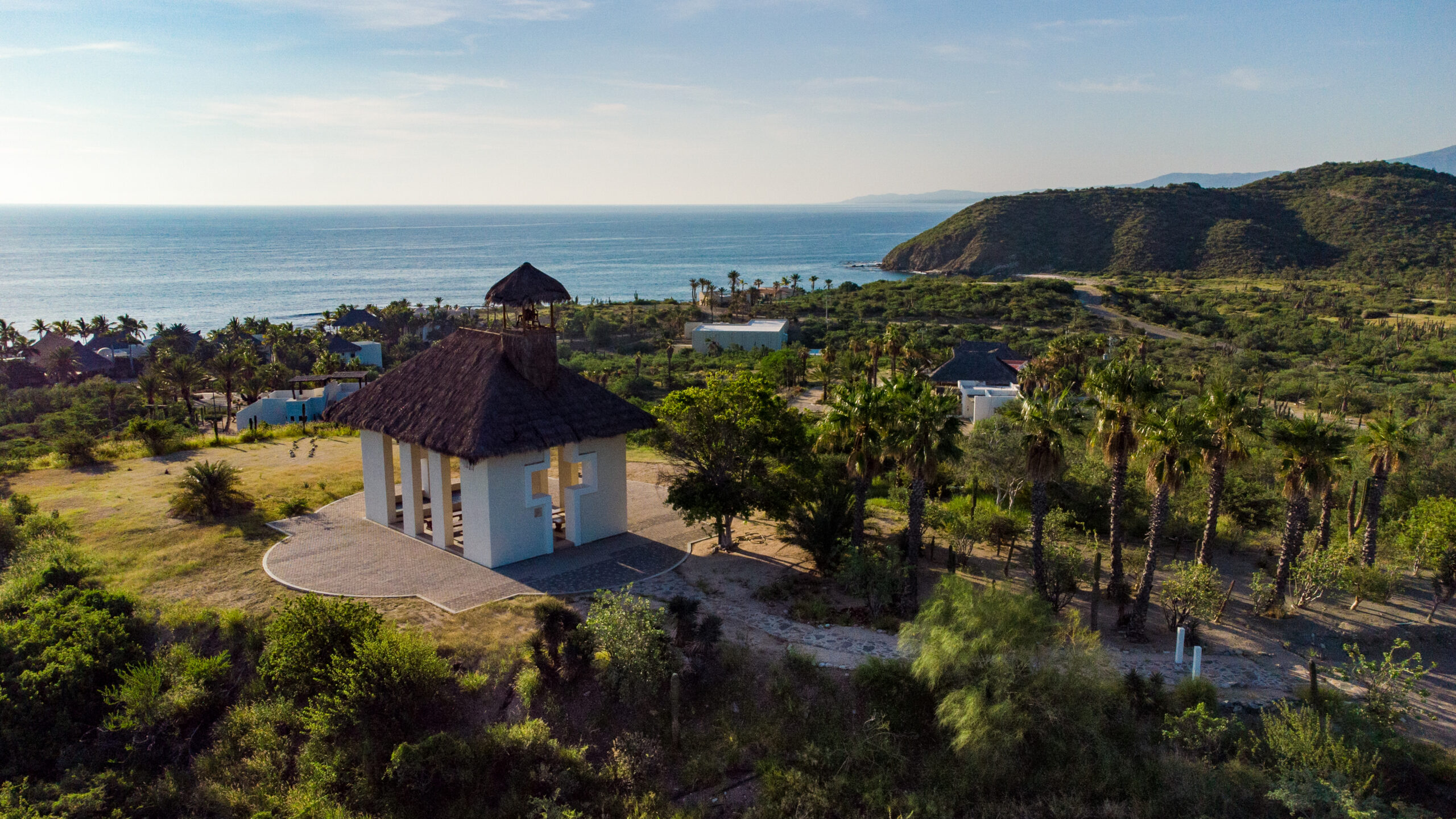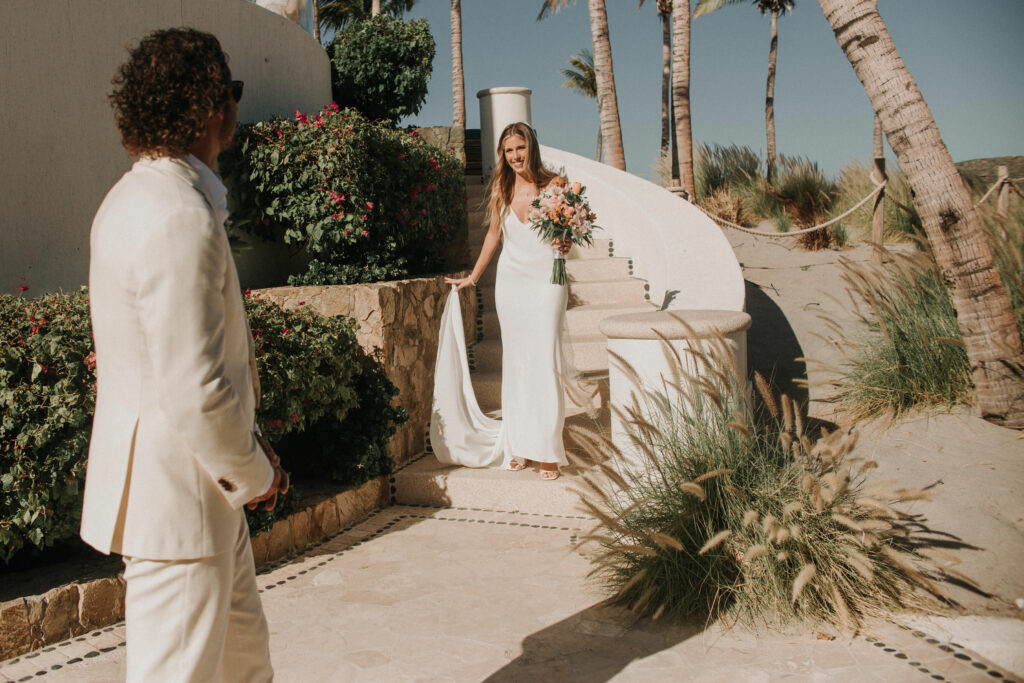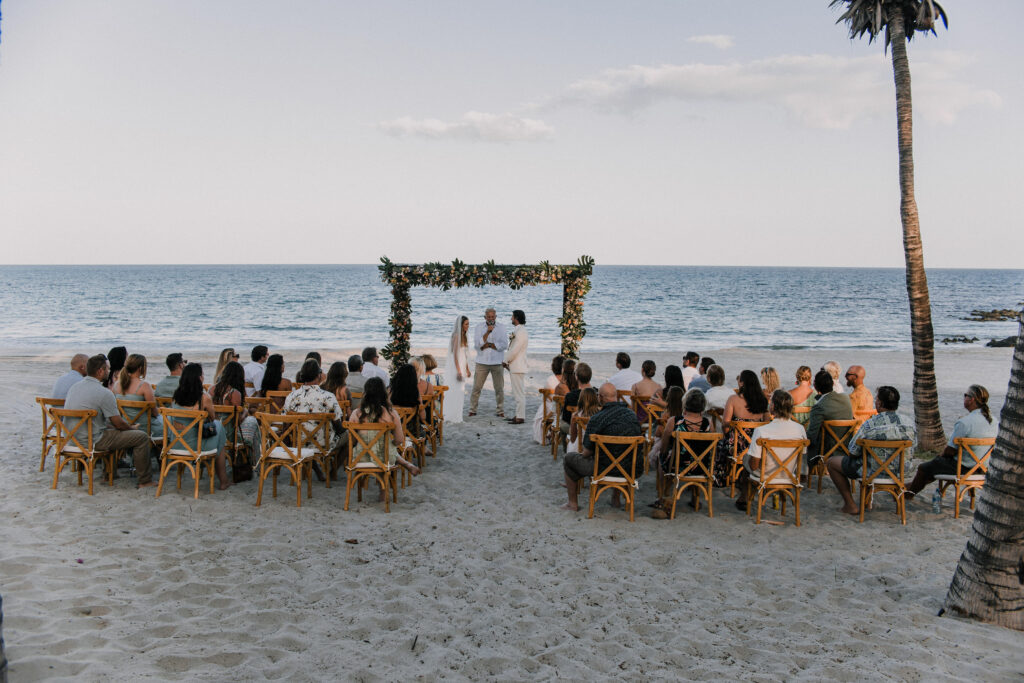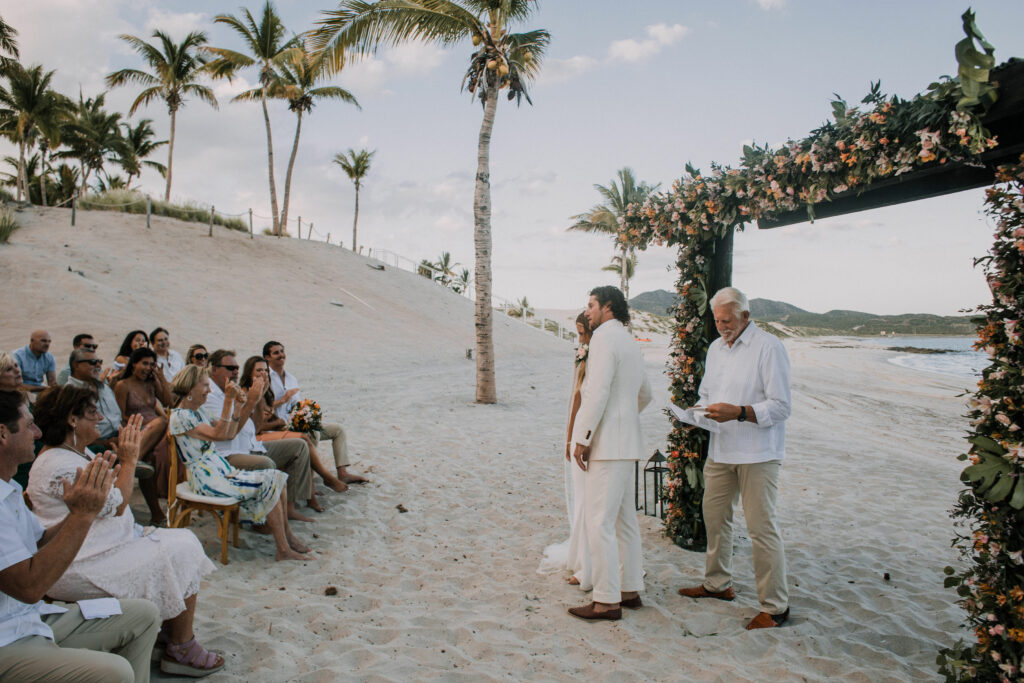 Reasons why you should have a destination wedding in Baja
Having a destination wedding in La Paz in Mexico may be one of the best choices you make when it comes to your wedding plans. Destinations are becoming increasingly popular as the landscape and climate provide a special and unique day for you to enjoy. A destination wedding also gives you the opportunity to escape your typical environment to a fabulous location where you can celebrate your marriage with your loved ones. 
If you are thinking about a destination wedding in Baja California, then here are some inspiring reasons why you should say yes! 
#1 Fun and easy to plan
A destination wedding makes your wedding planning a fun experience and can be quite simple. There are many locations that offer wedding packages, so all you need to do is give them your requirements, and they will do the rest for you, according to your style and budget. Wedding destinations will have a wealth of experience in hosting magical weddings, so will be able to assist you in planning the wedding of your dreams. A destination wedding in Mexico has fantastic views, which means you don't have to spend too much money on the decor, as the location is providing the theme for you. This takes a huge weight off your shoulders. 
#2 Spend quality time with friends and family
A destination wedding tends to be a little smaller than your typical wedding at home, and it is usually extended across a weekend or a week. This means that your guests will be arriving before the day of the ceremony, so you can make time to speak to all of your guests before, during, and after your wedding. It creates one big special holiday for everyone in attendance to bond and spend quality time together. It is likely you will all be within the same resort, and everyone is happy and positive due to the wedding, and the bonus of a wonderful destination in Baja California.
It is common for weddings to feel rushed, as there is a lot to get through on the itinerary, and guests are only there for the main event. This can leave you feeling like you have missed something, and don't get a chance to speak to all of your guests. A destination wedding provides you with an opportunity to create new and fun memories with your friends and family, in a fun and relaxing space. 
#3 Keep your guest list small and special 
One of the most stressful things about planning a wedding is choosing who to invite. A destination wedding tends to be smaller, as you only invite your nearest and dearest friends and family members. This is usually because it is not feasible for a large group of people to fly to another destination or take the time off work. This narrows down your list and should make the decisions much easier for you and your spouse to make.
#4 Gorgeous views to enjoy 
Everywhere you turn in La Paz Mexico, you are welcomed with beautiful views to enjoy. This will give your wedding a panoramic feel, as no matter where you turn, you get to enjoy the calm waters, the shining sun, or the mountains. This also means you can take advantage of the environment to create breathtaking photos of your day, that you can cherish for the rest of your life. Around every corner is a magical photo opportunity in the natural landscape of your Baja California wedding. A local photographer in the area will know all the best shots, so you can leave with something to remember your special day with.
#5 Less stress
Planning a wedding in Mexico can be less stressful than a traditional wedding. This is because many of the venues will already have pre-made wedding packages that will include a variety of vendors, making the process less stressful for you. A destination wedding is typically held over a weekend, or a week, which means you will get a lot of time to enjoy the venue and the destination, before and after your wedding. When you arrive, everything will be sorted, so you can spend your time relaxing at the beach, soaking up the good views, and spending intimate time with friends and family. This will reduce your stress levels for your big day. 
#6 Cherished memories 
Weddings in La Paz are not just a wedding, they also double up as a vacation for everyone involved. Whether you like to travel, or don't get away very often, your destination wedding is a great way to enjoy a vacation and make some new memories. Not often will all your friends and family be on the same vacation as you in such high spirits, so it is an opportunity that you can take advantage of. Take a day trip to the beach, do a fun activity, and immerse yourself in the local culture. 
A destination wedding in La Paz is one of the best choices you could make. With stunning panoramic views, it will be the most spectacular location to host your special day. It will be worth the travel and investment, as you create memories of a lifetime with your friends and family.